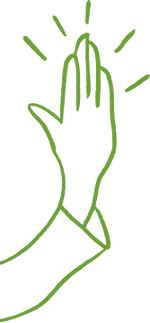 Hi there
awesome

person.
we can't

wait

to hear from you.
What products are Vegan?

Our Tuscan Veg Soup, Seeded Avo Smash Roll and Seeded Tonkatsu Roll are all vegan. We also have vegan salads available- Tonkatsu Schnitzel Salad, Pumpkin Cous Cous Salad, Buffalo Falafel, Garden Salad and Falafel Salad.

These options can be served with our new plant-based sauces including our habanero hot sauce, aioli and tonkatsu sauce!

Ingredients are produced in the same factory as non-plant based products, therefore it may contain traces of animal products.
What products are Gluten Free?

It's important to note that our kitchens in-store are not Gluten Free environments. However we have several products that do not contain gluten ingredients. Some of these include Grilled Chicken and Steamed Veg, Chicken Chorizo, Tuna Avocado and Chicken Avocado. Our tasty Chocolate & Coconut Banana Bread is also free of Gluten ingredients.
Where I can I find the nutritional and allergen information?

All our nutritional and allergen information is found under the 'Menu' tab.
Do you offer Gluten Free Bread options?

Unfortunately not at this stage. However we have a range of gluten-free salads including the Grilled Chicken and Steamed Veg, Chicken Chorizo, Tuna Avocado and Chicken Avocado.
Can I place a Catering Order for today?

Yes, however all of our products are made fresh in store every morning. Our ingredients are ordered the day before so you need to contact your closest store to check availability of ingredients to meet your catering needs. To order online our catering portal closes at 12pm the day before.
Can I cancel my catering order?

Definitely! Cancellations can be made 24 hours before the order is scheduled to be picked up or delivered. Same-day cancellations or reschedules are not allowed and may not be refunded.

Please email info@soulorigin.com.au to make catering order cancellations!
Do you deliver Catering?

Unfortunately, not all our stores deliver. You can find out if your store delivers catering under the 'Order' tab and entering your location.
Do you offer a Discount for Reusable Cups?

Absolutely! Nationally Soul Origin provides a 10% discount when customers use their own reusable cup.
Why don't you offer Porcelain Cups in store?

Majority of our locations do not have dedicated seating areas so we currently only offer takeaway cups. However, you are more than welcome to bring your own reusable cup in store… and we'll give you a 10% discount for doing so :)
How do I apply for a Job with you?

For all job applications, you are able to select a store and contact them via e-mail here: www.soulorigin.com.au/stores/. If they are looking for applicants and are interested in your application, they'll be in touch.
Are you available on delivery platforms?

Yes, Soul Origin is partnered with Uber Eats and Menulog. To find out if your local store is available to order from on these platforms, please click on the 'delivery' tab above.